OUR VISION
---
It is our mission to progressively engineer innovative printing solutions while maintaining the highest consumer quality and ecological standards. We serve customers around the world, in over 49 different countries and across all industries.
Since 1960, we have put creating a quality product at the top of our list. Our premium raw materials and devotion to quality control ensure an exceptional finished product that we are proud to deliver. We work with suppliers who participate in The Sustainable Forest Initiative, and our paper is 100% recyclable and BPA free.
We are a pioneer in the ever changing printing world with a focus on evolving and aligning our process strategy with today's technological demand. Leadership at Southland is committed to the importance of developing a team of market-driven problem solvers who are creative, adaptable, and customer-oriented.
---
FAMILY HISTORY
In 1960, John Manno, Sr., originally from Brooklyn, New York, and his wife Angelina founded Southland Printing Company, Inc. in the basement of his father-in-law's home in Shreveport, LA. It soon became apparent that Southland would specialize in printing for the parking industry. John invented an array of products which sky-rocketed Southland into becoming the world leader in parking lot tickets and related items.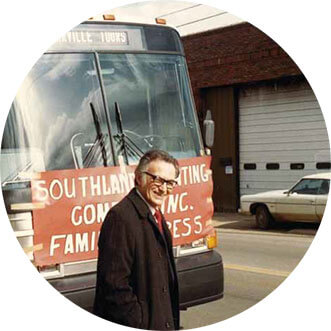 PRINTING EVERY TICKET IMAGINABLE
Southland Printing provides all Brand/MODELS of Machine and Hand Issued tickets. Our products include Mag Stripe, Bar Code and RFID enabled products plus Validation/Scrip Books, Hang Tags, Decals, Airline Boarding Passes, Baggage Tags and Every Ticket Imaginable!
Southland Printing offers... over 150 STOCKED items ready for 24 hour shipment...typically a 20 WORKING DAY TURNAROUND on most products...worry free ORDERING via Phone, Fax, Email or our Web Site.
We can supply what you need when you need it! With four regional Sales Representatives, Southland Printing is strategically placed throughout the country.
Meet our team of market-driven problem solvers
MEET THE TEAM

Register today and begin your easy shopping experience
SHOP NOW
Phone, email, live chat, which ever method you prefer
CONTACT US